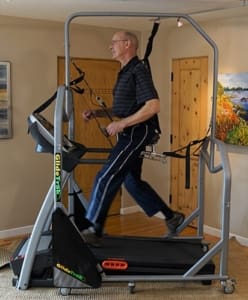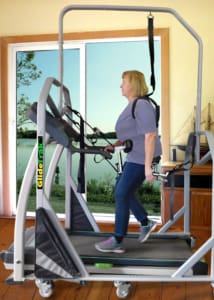 You Can Walk or Run Again
GlideTrak
Body Weight Support Treadmill
Lifelong Home-Based
Therapeutic Exercise
Is it too painful for you to walk, go for a jog or run to your heart's content?
Is your balance or coordination affecting your ability to walk confidently?
These challenges, caused by a range of conditions from joint pain, excess weight, plain aging, athletic injury; or neurological conditions such as Parkinson's, Stroke, TBI or SCI too often lead to a sever downward spiral in our fitness, mobility, health, and, sense of well-being.
Conquer your challenges and stop the downward spiral now! Introducing GlideTrak.
Learn how GlideTrak converts any treadmill into a powerful Body Unweighted  Training  system giving you the power reclaim your healthier self and add years of quality mobility to your life!
GlideTrak Introductory Video
The Power of GlideTrak Body Weight Support Treadmill Training
I thought I'd never be able to run again because of he problems with my knees. I bought an elliptical machine, hoping it would help but I am not able to use it because it wears on my knees. Then, I discovered GlideTrak. With GlideTrak, I get tremendous pain-free workouts that bring back memories of my days running track. I wish everyone who thought they couldn't run again would try GlideTrak.*
Since my injury 30 years ago, I have been very limited in my movement and am regularly in pain. I used to be very athletic and loved to run, and with GlideTrak I am able to get that incredible feeling of running again. GlideTrak allows me to relax and extend my movements all without pain. Afterwards, I feel great with no lingering issues from the workout. For a few minutes a day, GlideTrak lets me be my younger athletic self. It's been great for my body and my spirit.*
I love my GlideTrak workouts because it takes all the pressure off my lower-back and joints. I have a bad L5 disk, and being non-weight bearing and without impact while running is huge. GlideTrak allows me to get linger strides, and a longer and more aggressive workout than I would on a treadmill alone. I love my GlideTrak and I recommend it to all my fitness clients with knee, hip, ankle and back issues.*
*Results may vary. Contact us to discuss the suitability of this exercise regimen for your circumstances.
Always consult your physician before attempting any new exercise regimen.
GlideTrak Body Support Training