For years, clinical studies have demonstrated that partial weight bearing treadmill training can assist patients with neurological conditions, especially Parkinson's, in improving their walking ability and speed.
With GlideTrak™, the patient is supported in a unique, patented pelvic suspension system that comfortably unweights the patient to any desired amount.  The complete support of the seating system between each step is the KEY advantage that allows patient outcomes above and beyond other unweighting systems.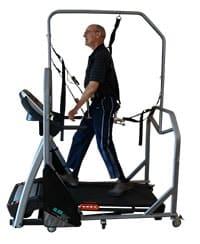 GlideTrak For Home
Although GlideTrak™ is used by therapists in hospitals and clinics, it is also affordable for home use. UCSF Medical School is showing patients retain more functional recovery with BWSTT workouts daily. GlideTrak in-home, therapeutic walking exercise makes it possible for clients to train as often as they would like, and may advance functional gains and recovery faster and more completely.