GlideTrak BIG WALK The Most Advanced Mobility Training and Exercise for Parkinson's

Newest Research Based, Forced/Big Exercise Program for Parkinson's Improves Mobility, Aerobic fitness, and Quality of Life.
Discover how GlideTrak's home based BIG WALK exercise is changing people's lives.
GlideTrak Owner John P. – Restored Hope – Improved Walking and Aerobic Fitness
See and hear John and his Wife discuss how just 3 weeks of BIG WALK Training have eliminated the shuffle in John's gait, significantly increased his stride length and walking speed, corrected his posture and arm swing, and improved his fitness and quality of life!
GlideTrak BIG WALK Training is based on the technique of Body Weight Support Treadmill Training (BWSTT) – the leading, clinically proven method [1-7] for Parkinson gait training and aerobic exercise. GlideTrak is unique as the only BWSTT system designed for home use.
GlideTrak BIG WALK is the only Parkinson's exercise that improves gait mechanics, walking speed, posture, balance, and aerobic fitness, while reducing symptoms such as stiffness, tremors, freezing.
To learn more about GlideTrak BIG WALK Training and see other client videos, visit our website at
Are you getting the most out of your Parkinson's exercise?
Sign up below to watch our latest video webcast.
The 5 critical, research based, exercise traits (PD FIT) necessary for an effective Parkinson's exercise program and how GlideTrak BIG WALK provides all 5 traits in a single exercise!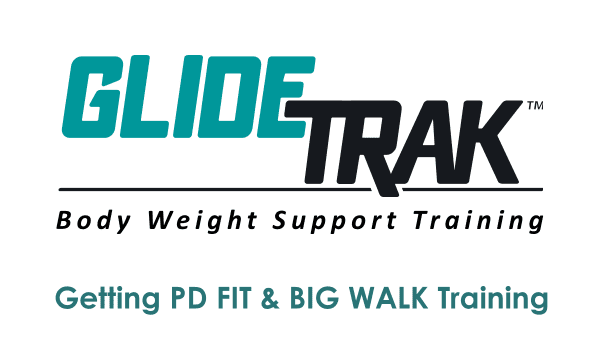 Here's what people are saying about GlideTrak BIG WALK:
After my GlideTrak BIG WALK workouts, I feel amazing. GlideTrak gives me the ability to practice fast walking with big steps and even to run up to 8mph! As far as running or walking fast, there is no other aerobic workout out that I can do safely. I have tried cycling, but it is not the same as a GlideTrak BIG WALK workout. GlideTrak BIG WALK gives me the best aerobic exercise I can get for my Parkinson's and it's fun too!!
I used to love hiking and walking, but after 15 years of Parkinson's my walking and physical movement was reduced to shuffling, and I became depending on my cane. After only 3 BIG WALK sessions on GlideTrak, I started to see improvement in my walking ability.

Knowing I can't fall or can't lose my balance on GlideTrak gives me a sense of safety and security that is very important. It allows me to aggressively practice fast walking, taking big steps and balance. I am now walking with more confidence, better posture and with longer strides. I have significantly less stiffness and rigidity as well.

I recommend GlideTrak to anyone looking to take back control of their body from Parkinson's.